LA Immersion Hackathon
In July, the adidas summer intern cohort traveled to LA where they formed teams to curate an omni-channel campaign for the adidas Basketball business unit.

For my group, we were tasked with creating a digital campaign targeted toward Gen-Z consumers. My contribution to the project were two ideas to enhance the consumer shopping experience on the adidas.com (e-commerce)

In similarity to skin-type quizzes offered by cosmetics brands, "
Find You Fit
" is a brief online survey to help consumers the right shoe for them for both on the court and off the court. The survey collects information on product fit, intended usage and playing style to make the best recommendations for the customer.
"
Shoes In Action
" is an online feature that shows the consumer their prospective shoe in action on and/or off the court. When the user hovers over the item, a highlight clip will play showcasing the featured talent in said pair of shoes. These clips will feature players within the high school and collegiate levels as opposed to pro-league talent.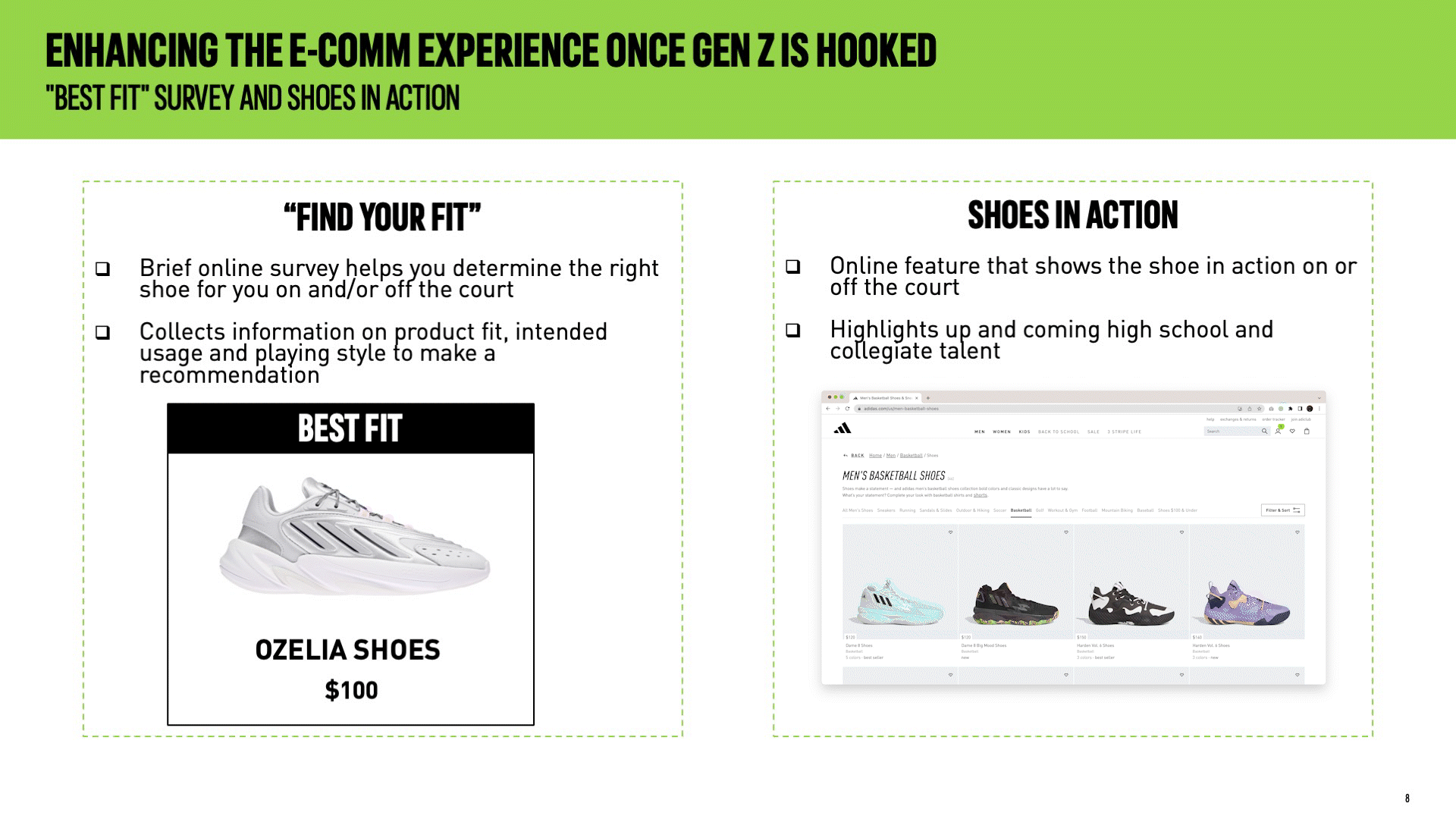 The Culture Round-Up Newsletter
During my summer 2022 internship at Adidas, I was asked to curate a newsletter that highlights current Gen-Z trends and styles.
Hyped Kicks
Highlighting the latest in sneaker news including new drops and collaborations worth observing and researching.
Music News
From Beyoncé and Drake releasing dancehall records to special guest sets at Rolling Loud Miami, we looked at the music our target audience listens to and the artists that gauge their interests.
Potential Partners
Looking at our target audience, we want to find the best talent across various industries that can bring in their fanbase
Style/Consumer Trends
With adidas being a top competitor in sportswear, we want to keep a pulse on the latest fashion trends and styles including outfits, accessories, and designers within the general clothing industry.